from
Vaughan Williams, Ralph, 1872-1958

to

Maitland, Ermengard, 1887 - 1968

Letter No. VWL255
Letter from Ralph Vaughan Williams to Fredegond and Ermengard Maitland
---
Leith Hill Place
Nr Dorking
Dear Gaga and Vuff1
I wrote you a letter last week but I tore it up; so then I thought I would write to you from here; so that you might see where to write me a telegram whenever you want to. Adeline and I think you might like to see some designs for my trousseau.
The first pattern represents my wedding suit, the general colour is puce the spots being of a sandy colour the boots to be light blue with red heels.
Pattern 2 represents a good working suit for everyday wear being made of good strong material with plaid stockings.
Two other pictures are supposed to be guesses of what I shall look like when I come back from Germany – I don't know which is the most likely to be true.
And last of all two pictures of a giraffe one by Adeline and one by me; the head of my one is wrong, but the tail is better than in Adeline's.
I want to see the new monkey of which also I will give you a picture and end up.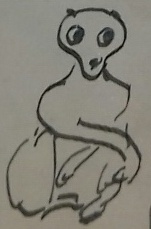 This is not much like a monkey.
Ralph Vaughan Williams
---
1. The recipients, nieces of Adeline Fisher and daughters of Frederic and Florence Maitland, were to be bridesmaids at VW's wedding. VW would have met them often in his Cambridge days when he visited their home at Downing College.
To:

From:

Scribe:

Names:

Subject:

Places:

Format:

Location Of Original:

Shelfmark:

MS Mus. 1714/1/1, ff.70-71

Citation:

Cobbe 7; R.V.W.: a biography of Ralph Vaughan Williams, p.51