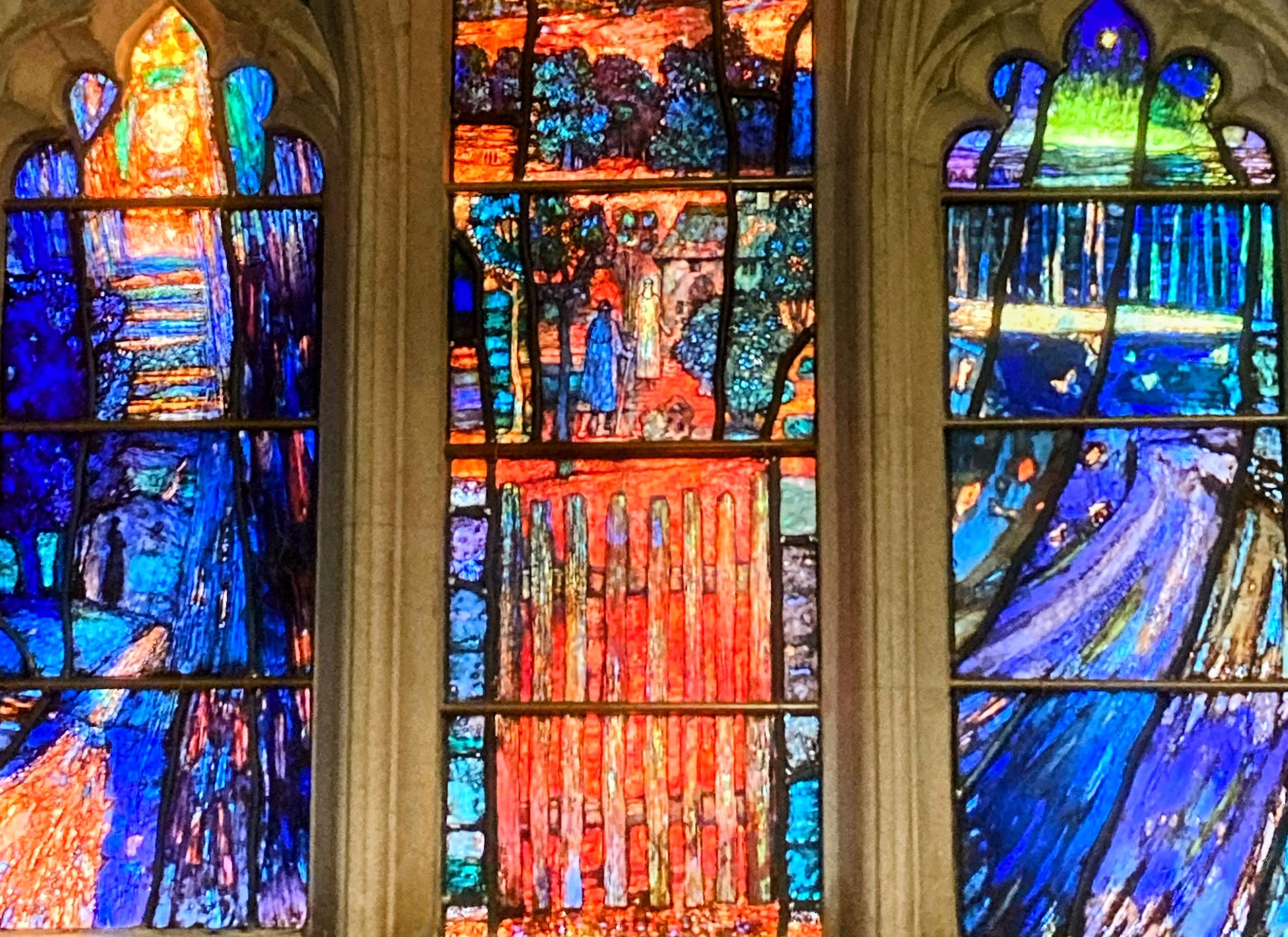 Down Ampney Stained Glass Window Unveiled
A newly commissioned stained glass window by artist Thomas Denny has been unveiled at All Saints, Down Ampney in Gloucestershire, at a service of dedication in the presence of Their Royal Highnesses The Duke and Duchess of Gloucester.


The window is a memorial to the composer, Ralph Vaughan Williams, whose father was Rector of Down Ampney, and who was born in the Rectory there in 1872.


This design is intended to suggest something of Vaughan Williams's life pilgrimage, of the doubts, hopes and revelations of his life and his music. On the right his nostalgic affection for the music traditions of the English nation on the left; his great cycle of symphonies starting with the sea and passing through the stresses of both world wars to the unknown future on the right; and, in the centre, his lifetime preoccupation with the journey of the soul reflected in John Bunyan's The Pilgrim's Progress.


RVW's first encounter with The Pilgrim's Progress was, as a young child in the late 1870s, when the story was read to him. The gripping story and vivid imagery stayed with him and over seventy years later the complete opera (or 'Morality') of the same name was first performed at Covent Garden.


Thomas Denny is a stained-glass artist and painter, educated at Edinburgh College of Art in the 1970's. Denny has concentrated on stained-glass and has now made some fifty windows for churches and cathedrals. He says:

"Stained glass is not music. But one can experience it in musical terms — movement, orchestration, light and dark, colour, narrative. It is hoped that the texture and the character of this window might be a homage to the experience of listening to the music of Vaughan Williams."


#RVW150

11 December 2022